Everything you need from a spa
Relax and recharge with a Master Spa
Master Spa puts the choice into your hands. Whether your hot tub goal is improving circulation, reducing swelling and muscle aches, or melting away stress at the end of a day, Master Spas can help. From a gentle, relaxing touch, to maximum muscle-kneading jets, Master Spa can help you achieve what you need from your spa.
Master Force Bio-Magnetic Therapy System
Master Spa strives to design an easy-to-own and easy-to-enjoy spa experience by providing unparalleled quality. All standard models of Master Spas come with an exclusive Master Force Bio-Magnetic Therapy system, which applies magnetic therapy to pressure points on the neck and back, with strategic placement of powerful magnets behind the stress relief neck and shoulder seat.
Using Icynene foam technology, Master Spa knows that better insulation means lower energy cost. Icynene has dramatically raised the standard of hot tub insulation, compared to standard urethane foam insulation systems used to most other U.S. spa manufacturers. An expanding polyicynene expanding foam insulation, Icynene is environmentally safe. The Icynene Insulation System expands to 100 times its initial volume in seconds to insulate and air-seal the spa.The result? A blanket of soft foam insulation that forms a continuous thermal barrier that eliminates cold spots and significantly reduces your energy costs. This means you can depend on a consistent, comfortable temperature inside the spa.
And, with a Noise Reduction System, Master Spas are able to reduce pump and motor vibration by 150 percent versus the industry standard mounting system. That a quieter spa experience for you.
Master Spa as also focused on providing hot tubs that are meant to be enjoyed, not taken care of. They've developed a unique and patented EcoPur Filtration System to take the work out of owning a hot tub, so you can enjoy your hot tub every day. The filtration system incorporates dual filters and a Corona Discharge Ozone Injection System.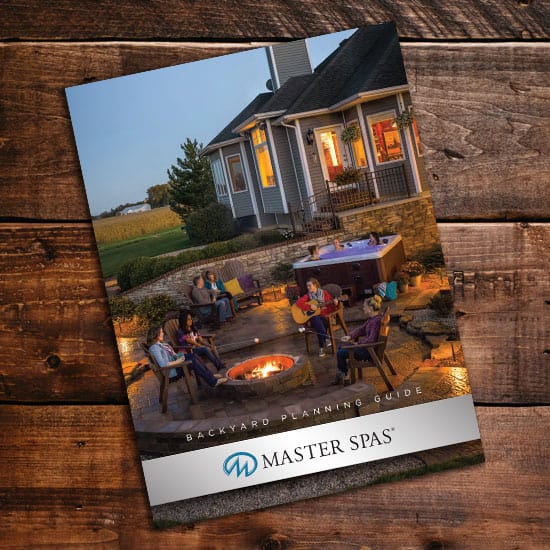 Choosing the Perfect Location for your Spa
The Step-by-Step Planning Guide by Master Spas will provide you with important information about choosing a location and preparing for installation of your spa.
Request a custom quote today!
Bring the ultimate relaxation into your backyard or home with a luxury hot tub or sauna, contact us today so we can provide you with a custom quote!